GOOD THINGS | Collected. Curated. Coveted.
We covet the good things. Those good things aren't the most expensive items you can find from the most expensive retailer. No. Those good things are passed down from generation to generation. Those good things allow space for the telling of a story. This story-your story-is one of your home that, through careful yet thoughtful curation, holds the power to not only transform a space but to impact and influence the way others are moved to the same in their own homes and lives. This is the power of the collected. This is the power of your home story.   
SHOP SOME GOOD THINGS NOW
When we craft a life of grace---when everything under our roofs tell a story—every one of our hearts find more of Home. 

Your home longs to tell the best stories. 

Ann Voskamp
A few thoughts on...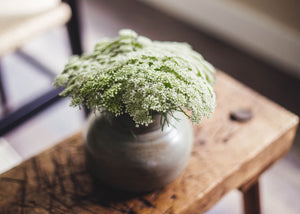 EVERY LITTLE DETAIL.
Here are 3 quick ways you can make the details a little more cohesive in your space: 
1. TONE. This is color. You don't have to stick to the same color scheme in a space but you want to be sure that they complement each other. What's the overall tone of your home or individual spaces?
2. TEXTURE. Texture in a space is key. Not only does it stimulate the eye but it brings movement and visual interest to a room. Much like color, it can make you feel something. Blankets, flowers, textiles. They all have a unique way of bringing texture into a space.
3. TOTALITY. How do each of these details come together in a room to tell its story? That is the totality of a space. Every little little is individually unique but together, what a story they tell. 
SHOP COLLECTION
BE OUR GUEST.
We love using antique dishes and serveware in unique ways. From traditional ways of serving to art features adorning the walls in a home, there's practically no limit to the application of these in your home. 
SHOP COLLECTION
VINTAGE FINDS.
Here at Restoration House, nothing tells a story better than unique, antique and vintage pieces. Explore our products to find that special piece to highlight your own individual personality and bring out the character in your own home. 
SHOP COLLECTION